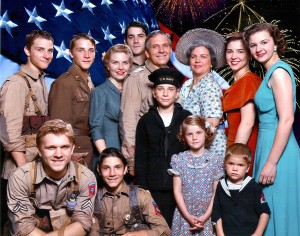 In 2012 the Anthony Courter family had the pleasure of meeting Mr. Richard Coburn, a WWII veteran from our hometown of Linden, TN. After hearing his story, we decided to gather our friends together and host an evening of music, stories, and history lessons that would both honor Mr. Coburn and educate the attendees, while inspiring them to remember and honor the veterans living down their local streets. The evening was a success and a similar event was held again in 2013 with Mr. Edgar Harrell, USMC and USS Indianapolis survivor from Nashville.
---
WHAT REMEMBERING WWII IS TODAY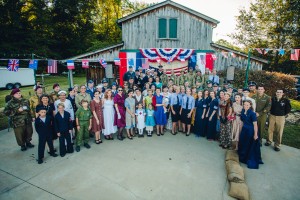 What began as a small commemorative gathering in 2012 grew into a full-fledged community event and reenactment called Remembering WWII, which first occurred on September 27, 2014 and is scheduled to occur again on September 29th, 2018.
WWII history will come to life at this incredible, hands-on living history event. Attendees will experience two WWII re-enactments, an army encampment, live big band music, an authentic recreation of the French Cafe de Normandie, vintage vehicles, antiques vendors, and more. Most importantly, attendees will have a rare opportunity not only to hear WWII veterans share their stories, but will be able to speak with them, have a photo signed, and express their appreciation in person. It will be an unforgettable day of honoring our heroes, connecting personally with the past, and experiencing a taste of life in the 1940s.
We hope you'll join us in Linden, Tennessee on September 29th, 2018 for Remembering WWII 2018: Living History, Education and Honor!
www.rememberingwwii.com
www.facebook.com/RememberingWWII
www.instagram.com/RememberingWWII