Inge Auerbacher

Born in Germany of Jewish descent, Inge Auerbacher was deported to the concentration camp Terezin when she was seven years old. She survived three years of terror, malnourishment, and sickness before being liberated from the camp by the soviets with her parents in 1945. They immigrated to America in 1946, where she later earned a degree in chemistry and worked with prominent scientists in biochemistry research. Since 1981 she has lectured about the Holocaust across the US and Germany, appeared in television and film, and written several books about her experiences during the war. // http://www.ingeauerbacher.com
---
Clinton Riddle
"They said you had to be half crazy to get on one of those and I said, 'Well, I meet the qualifications.'" – Clinton Riddle, WWII glider pilot
Drafted in 1942, Clinton Riddle served in the 82nd Airborne Division for over 30 months, seeing action in North Africa, D-Day, the Invasion of Holland, and the Battle of the Bulge. He was awarded a Bronze Star Medal, a Distinguished Unit Badge, and a Purple Heart, as well as other awards. He returned home after the war and served as a Baptist Minister for 40 years, preaching in over 100 churches. Since he retired from preaching he has devoted his life to telling others about his war experiences and ministering to other veterans in hospice.
---
Don Jakeway

Immediately out of highschool, Donald Jakeway joined up as a paratrooper in the 82nd Airborne Division. He jumped with the 508th into Normandy behind enemy lines, and again into the Netherlands, where he was hit by shrapnel and hospitalized. Three months later, he rejoined his unit for the Battle of the Bulge, where a sniper shot him in the lung. After the war, he was awarded a Purple Heart and twenty other service awards. He has four children, six grandchildren, and five great-grandchildren, and recently celebrated his 70th wedding anniversary.
---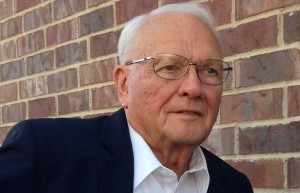 James Willis

When the Japanese bombed Pearl Harbor, James Willis was attending Purdue University. He dropped out and went into the 77th Infantry Division, where he was assigned to the Pacific theater. He fought at Okinawa, and received a Purple Heart for wounds sustained there. After the war, he earned a teaching degree and spent over thirty years working in Indiana public schools. He has written two books, The Odyssey of a Purple Heart Vet and Footsteps of a Life Journey.
---
A Conversation with History

Join event host Anthony Courter as he conducts informal interviews with several WWII veterans. Hear their thoughts, memories, and life lessons shared in a casual, off-the-cuff, Q&A format. Courter has been interviewing vets across the States and in Europe for years, finding that all it takes is asking the right questions to yield valuable lessons and priceless memories that might never otherwise be shared.
---
Veterans & Speakers from Remembering WWII 2015
Veterans & Speakers from Remembering WWII 2014
Please like our Facebook page to be notified as of special event announcements.